Masonic Temple About Us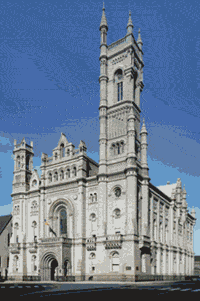 The Masonic Library & Museum Gift Shop is located in the 1873 National Historic Landmark Masonic Temple in Philadelphia, Pennsylvania. Everyday in the Shop we meet visitors from all over the world, as well as local visitors from Philadelphia and its suburbs! The Temple sits right next to Philadelphia's City Hall, another architectural gem from the 1800's, in the center of the city.
The Temple is also known as the Grand Lodge of Free and Accepted Masons of Pennsylvania and houses seven architecturally amazing lodge rooms continuously in use by the Freemasons for their meetings. It also houses a Library and a Museum with an extensive collection of Masonic books, treasures, sculptures and paintings. Guided tours are available almost every week day, except for Sunday and Monday, but it's best to call ahead to check: 215-988-1810.

Our Shop's goal is to provide culturally significant, educational, and inspirational items depicting Freemasonry, famous Freemasons and founding fathers, the Masonic Temple, Philadelphia, and the rich historical past they all share. Proceeds from the sale of items in this non-profit shop benefit the on-going restoration of the historic Masonic Temple.

While visiting Philadelphia, please plan a visit to the Masonic Temple and stop in to the Museum Shop to say hello!